Synopsis:
Meet Scarlett Epstein, BNF (Big Name Fan) in her online community of fanfiction writers, world-class nobody at Melville High. Her best (read: only) IRL friends are Avery, a painfully shy and annoyingly attractive bookworm, and Ruth, her pot-smoking, possibly insane seventy-three-year-old neighbor.
When Scarlett's beloved TV show is canceled and her longtime crush, Gideon, is sucked out of her orbit and into the dark and distant world of Populars, Scarlett turns to the fanfic message boards for comfort. This time, though, her subjects aren't the swoon-worthy stars of her fave series—they're the real-life kids from her high school. Scarlett never considers what might happen if they were to find out what she truly thinks about them…until a dramatic series of events exposes a very different reality than Scarlett's stories, forever transforming her approach to relationships—both online and off.
Review:
I am giving Scarlett Epstein Hates It Here by Anna Breslaw 5/5 stars.
Favorite YA Contemporary of 2016 so far! I am a complete fanboy when it comes to Scarlett Epstein Hates It Here and to Anna Breslaw. Literally if there isn't a fandom for this book yet, then here is the start…we shall be known as "Scarfaces".
Alright, so I haven't heard a lot about this book and I received it in my April Uppercase Box and I usually don't read the book I received in the same month, but the cover and synopsis got me really interested in it, so I decided why not give it a try. I mean I liked the whole idea of Scarlett being a fanfiction writer, which made me think of Fangirl by Rainbow Rowell which did really well, but Scarlett stood out. Scarlett is a very interesting character as she is very edgy, but the next moment she can be very sensitive. As I sit here and think about Scarlett as a character, I can't help but be reminded of Veronica Mars…well except for the teen private investigator part. The personality types of Scarlett and Veronica are very similar, sassy, strong, sarcastic and emotional at times.
Now for the story, I felt like the book was going to mostly be about the fanfiction that Scarlett is writing, but I was beyond happy that the fanfiction played its part, but the focus was on Scarlett's life. In term of family life, I can't really say I relate to Scarlett as I was brought up in a two parent house hold that was stable, but Scarlett was brought up in the opposite. That being said, I heart broke for Scarlett when it comes to her family especially with her father. There is one part towards the end of the book that an event happens and I had to set the book down and cry with Scarlett, because it was so heart breaking. However, this lead to character development between Scarlett and her Mom which I was happy to see, because the relationship between them felt very stiff the whole story, but this lead to it being very pliable and a real mother daughter relationship.
When it comes to Scarlett and Gideon, I'm just going to leave this here…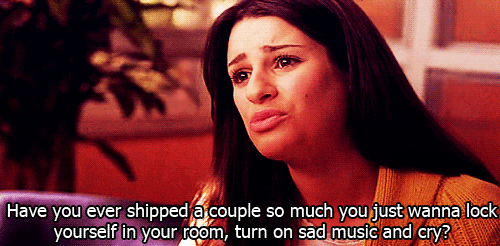 I mean that is exactly how I felt about the two of them.
So there you have it! I am an absolute fanboy when it comes to Scarlett Epstein Hates It Here and I think you should all read it if you haven't yet.There needs to be more Scarfaces out there!