Synopsis:
They had nothing in common until love gave them everything to lose . . .
Louisa Clark is an ordinary girl living an exceedingly ordinary life—steady boyfriend, close family—who has barely been farther afield than their tiny village. She takes a badly needed job working for ex–Master of the Universe Will Traynor, who is wheelchair bound after an accident. Will has always lived a huge life—big deals, extreme sports, worldwide travel—and now he's pretty sure he cannot live the way he is.
Will is acerbic, moody, bossy—but Lou refuses to treat him with kid gloves, and soon his happiness means more to her than she expected. When she learns that Will has shocking plans of his own, she sets out to show him that life is still worth living.
Review:
I a giving Me Before You by Jojo Moyes 5/5 stars.
I would like to start off this review with…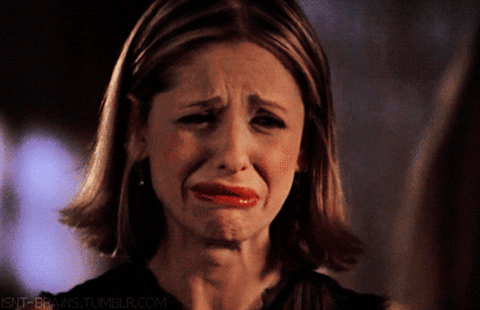 Honestly, it has been quite sometime since a book has given me a good cry, but Me Before You gave me quite a few good cries (one of which happened at work). There is so much emotion tied into the story, not even just in terms of Louisa and Will's love story, but also in terms of Louisa's family life, Louisa trying to figure out her own life, as well as Will dealing with his life and family. Honestly, it was like Jojo Moyes wanted to find a way to make me cry about all different kinds of emotions, and as I stated, I sure as hell did.
When I started reading Me Before You, I wasn't sure if I was going to like it. It started off a bit slow for me and I just felt like Louisa was very unrelatable to me, but as the story went on I found myself pausing because I realized how much I can relate to Louisa and why she is the way she is, and how she feels about stuff in life. Just the connection I felt to Louisa made the reading experience 100 times better, and with Louisa being such a complex character, I truly think anyone could find a way to relate to her.
On that note, all the characters in Me Before You are complex. I mean you have plenty of books that will have a lot of characters, but they keep most/many of them very simple, but in this book everyone is quite complex. Yes many are quite  a bit more complex than others, but each complex in their own way. Now, I know you might be thinking "Jesse, with all of this complex characters involved isn't hard to invest into each one and try to figure them out?" Well, no, because Moyes did such a great job of giving each character their time to show how they are, and a time to focus on the change they go through as the story is told. I mean this is spread out through the whole novel very evenly so it doesn't feel like you're being bombarded with a bunch of character personality change right at one point.
I truly want to go into a bunch more details of the story, but I don't want to spoil anything to those of you, who have yet to read Me Before You or those of you who are waiting to see the movie, before reading the book (which you definitely should read it before seeing the movie). That being said, I'm going to end this book talk/review here and if you're wanting to discuss this book more, we can in the comments below or you can send me an email. You can find my email on the contact me page.
About the Author:
Jojo Moyes is a British novelist.
Moyes studied at Royal Holloway, University of London. She won a bursary financed by The Independent newspaper to study journalism at City University and subsequently worked for The Independent for 10 years. In 2001 she became a full time novelist.
Moyes' novel Foreign Fruit won the Romantic Novelists' Association (RNA) Romantic Novel of the Year in 2004.
She is married to journalist Charles Arthur and has three children.